If there are too many internal redirects on your site it can take a toll on the server. It can also slow down page load speed. This can become an even bigger issue if there are many redirects and many users on the site at the same time.
Finding Internal Redirects
You can find all the internal redirects that are happening on your site by using a crawling software.
In Screaming Frog, click on the "Response Codes" tab. In the "Overview" tab on the right, click on "Redirection (3XX)". This will pull up a list of all pages that have 3XX redirects. You can see the "Status Code" column to see which ones are 301s and 302s (redirects).
1) Click on a link in the main box. 2) Then click on the "Inlinks" tab at the bottom (you may have to drag up in order to see this section). 3) This will show you all the pages on the site that contain a link that redirects. These are the pages you will need to go to in order to update the internal links so that they no longer redirect.
You will only need to be concerned with internal links that are redirecting.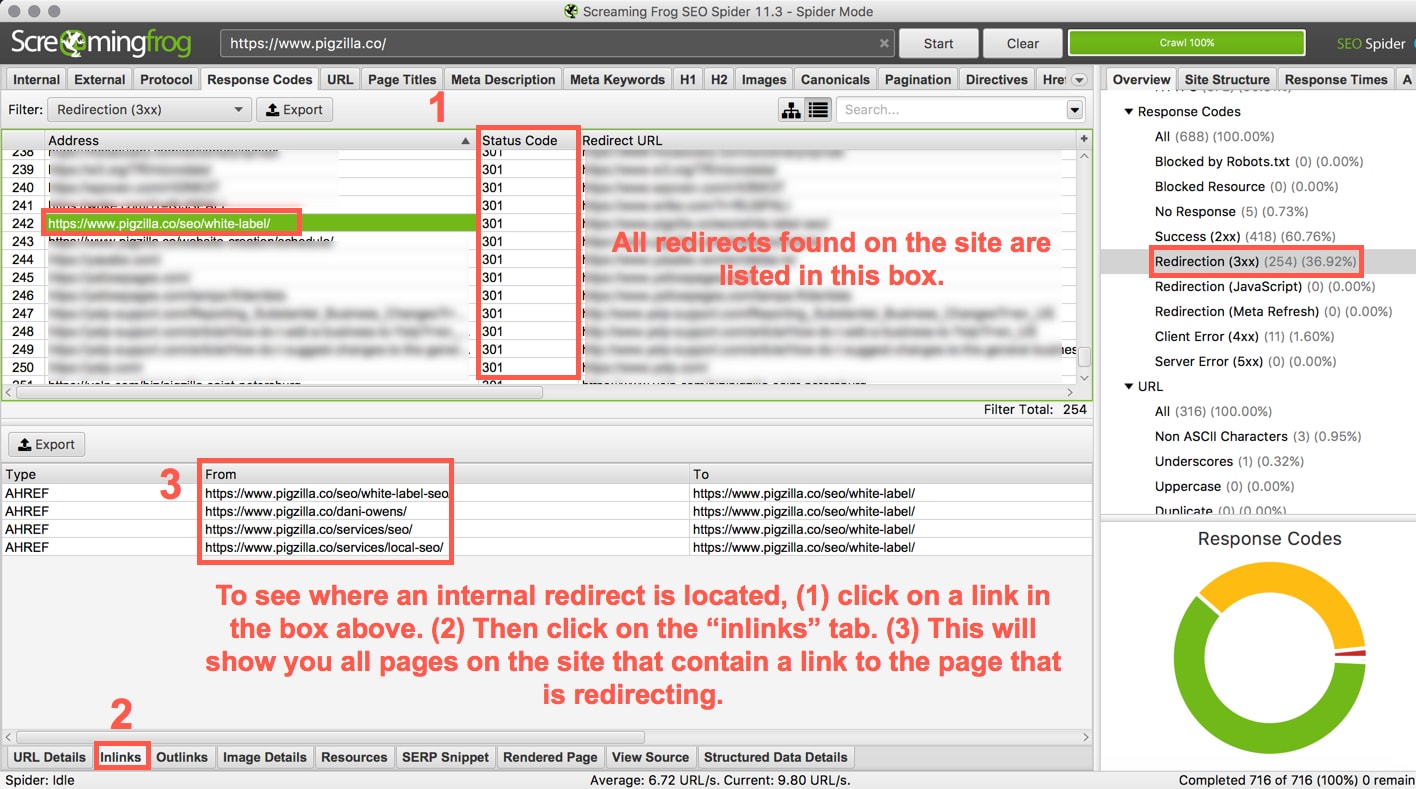 Updating the Redirecting Internal Links
Now that you have located the internal link that is redirecting, you can update it to the correct / final destination link.
In the example above you will see the link /seo/white-label/ is redirecting. Let's see why this may be:
It could be that the new page link is now /seo/white-label-seo/. If that is the case, update the link from /seo/white-label/ to /seo/white-label-seo/.
It could be that the link is pointing to the http:// version of the page, but the site is using HTTPS. If that is the case, update the link from http:// to https://.
The main goal is to update the link so that it no longer redirects. Even once you update the link, you'll still want to keep the 301 redirect in place just in case there are any backlinks to the old link anywhere on the internet.
You can use a Search and Replace plugin to update internal redirects in bulk. But be very careful. It's super easy to mess things up using a search and replace plugin.