What is a citation?
Citations are defined as mentions of your business name, address and phone on other webpages—even if there is no link to your website.
https://www.pigzilla.co/articles/what-are-local-citations/
What is a citation site?
A citation site is a website that contains citations for businesses. For example, Yelp contains many business names, addresses and phone numbers of businesses. Think of them as a phone book on the internet. Some other popular citation sites are Angie's List, Google Maps, Facebook, Yellow Pages, BBB.org, etc.
What is a URL?
A URL (Uniform Resource Locator), more commonly known as a "web address", specifies the location of a web page on the internet.
What fields can citations have?
The main ones are business name, address, phone number, website address, categories, business description, hours of operation, images, links to social media profiles.
What is NAPW or NAP consistency?
NAP stands for the name, address and phone fields in your citations (aka local business listings). When managing your citations, you want to make sure that your business name, address and phone number are correct on all of your citations. It's also important to include the correct address to your website.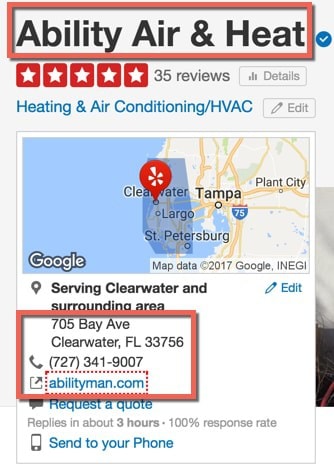 Are search engines smart enough to understand slight address variations such as Street vs St? The answer is yes. Review this list of acceptable address variations here: https://whitespark.ca/acceptable-google-maps-nap-abbreviations-and-variations/
Why Keep Citations Updated?
There are several reasons why it's important to keep your NAPW consistent:
You don't want customers calling an old phone number
You don't want customers showing up to an old address
You don't want customers visiting a website that doesn't exist anymore
It's a determining factor in deciding if your business is eligible to show up in the local pack
Having consistent NAPW has been shown to help with SEO. On a small scale, this is hard to measure. However, when a large study was done it was discovered that "Enforcing citation consistency and removing duplicates produced a net 23% increase in pack presence."
Keep in mind NAPW consistency doesn't help you to outrank competitors, it only helps you to be eligible to show up in the local pack.