Get Your SEO Website Audit
My comprehensive SEO Website Audit Service includes a full audit that I perform myself. No tool can perform an audit better than a human. I spend hours manually reviewing your site with a fine-toothed comb using my hand-crafted audit template that took me years to perfect. This is the same audit template that I use for my current clients.
An SEO Website Audit is required if you want to know how your site is performing or what needs to be improved. I can help uncover issues that could be preventing your site from performing well on search engines and provide you with suggestions on how to fix these detrimental issues.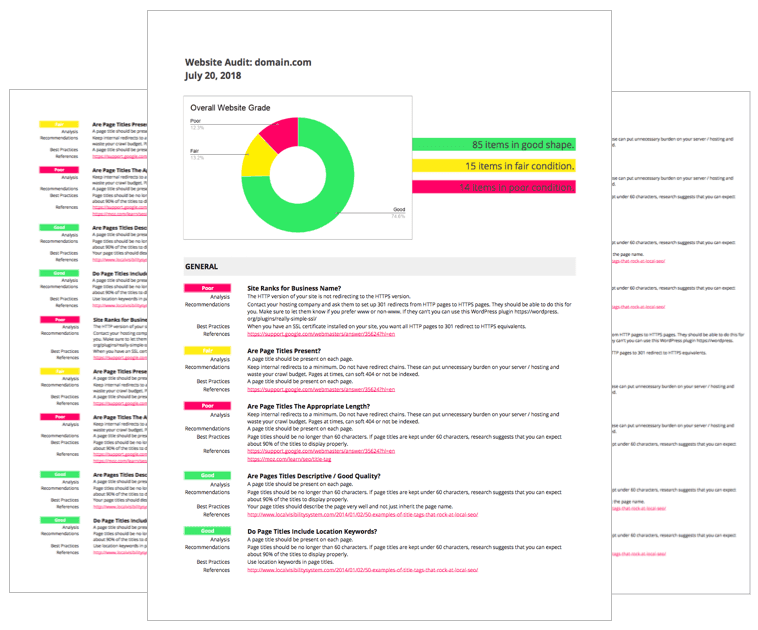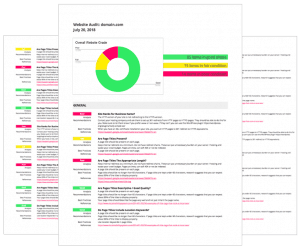 Why Get A Website Audit?
Get a second opinion
See if your SEO company is doing a good job
Save money and do the implementation yourself*
Items Included Your Website Audit
I check over 80 items but here's a preview of some of them:
Technical SEO
Site Speed
SSL Certificate
Redirects
Broken Links
URL Structure
Crawling
Indexing
Canonicals
XML Sitemap
Robots.txt
Duplicate Content
Local SEO
Conversions
Traffic Drops
Content Assessment
Mobile-Friendly
Page Titles
Meta Descriptions
Headings
Internal Links
Images
Google Analytics
Google Search Console
Ready To Order Your Website Audit?
Order Now
What You'll Get
A completed SEO website audit in PDF format delivered via email
I spend hours manually reviewing your site with a fine-toothed comb
I personally review over 80 checkpoints with my own eyes
An overall website grade so you can quickly see how healthy your site is
A 1-hour post-audit phone call where we can go over your audit and discuss any questions you may have
Delivered within 28 days
I include all of the following in the completed document:
Analysis of your website; what state is it in?
Recommendations of what I'd do if you were my own client
Best practices of what professionals in the SEO industry commonly agree upon
Supporting references from reputable resources when available
Items I'll Need From You
Google Analytics Access
You'll need to add me as a user to your Google Analytics profile so that I can review some items in your Google Analytics account. If you don't have Google Analytics set up that's ok, just let me know.
Google Search Console Access
I'll count on you to add me as a user to your site in Google Search Console. If you don't have this set up yet it's ok, just make sure to tell me so.
How Much Is It?
Website audits can get pretty expensive! But my manual service gives you highest-quality website audit at a price you can afford. No tool can perform an audit better than a human.
Manual Website Audit
Delivered within 28 business days
$599
Over 80 SEO items reviewed
Final report delivered via PDF
1-hour post-audit phone call
*You need some SEO knowledge in order to implement the necessary changes on your own. Need help with implementation? Contact me.