How To Check Manually
You can do this manually by looking at the website that you'd like to build a link on. Do they have any of the following issues?
There are many ads on the site
There are multiple pop-ups that are irritating
The site contains information on gambling
The site contains pornographic material
The site looks like it may have been hacked
If you see any of these issues, I'd avoid that site. You can also use tools to help you decide if you should pursue building a link on a specific site or not.
How To Check Using a Tool
There are many tools you can use to get a general idea if a link is good or bad. One of these tools is called SEMRush.
Since the quality of backlinks plays an important role in SEO, you'll want to use SEMRush's Trust Score to understand which link prospects will be more or less beneficial to acquire. Keep in mind the Trust Score is not 100% accurate. It's just a score and only to be used as a guide.
You can use my affiliate link below in order to get 7 days free or you can go directly to semrush.com if you don't want to use my affiliate link. It's all good either way.
My Affiliate Link – Try For 7 Days Free
Step 1 – Open an account at SEMRush
Step 2 – Click on "Domain Analytics", then "Backlinks"
Step 3 – Enter the website address (such as a competitors website)
Step 4 – Click "Search"
Step 5 – View the "Trust Score" column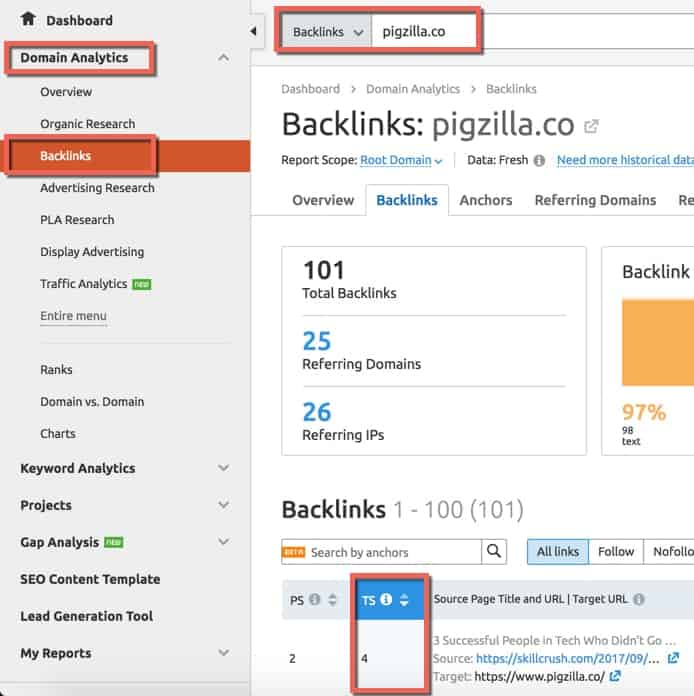 After you hit "Search", at the bottom of the screen you'll see a list of backlinks that are pointing the website address that you entered.
The Trust Score measures the trustworthiness of a webpage or domain on a scale of 1 to 100. If the Trust Score is high, that is a good thing. It could mean that backlink is a good one to pursue. If the Trust Score is low it doesn't necessarily mean that it's a bad link but it could be an indicator that the link is not worth much or possibly spammy.