Facebook has a local business directory. It looks like it's called Professional Services. It's a place for "local businesses and organizations with the best Facebook reviews and ratings." I haven't found much information on it but Search Engine Land did have some info on it as well.
Why Should You Care About What Facebook Is Up To?
Facebook Professional Services
While doing a citation audit for a client I noticed a subdomain of "business" being used by Facebook so I clicked on the result to investigate.

https://business.facebook.com/search/105487082819411/places-in/174187662626299/places/intersect/?page=4
If you scroll down far enough, you can see they have more pages for other cities too.

What's interesting is that this page looks like it's just a directory page for a specific city. Many other directory sites like Yelp, SuperPages and Yellow Pages have city pages like this.
Examples:
https://yellowpages.com/tampa-fl/dentists
https://superpages.com/yellowpages/c-dentists/s-fl/t-tampa/
https://yelp.com/search?cflt=chiropractors&find_loc=Tampa%2C+FL
Branded Local Searches
Facebook already does well ranking for branded local searches such as "BurgerMonger Tampa". When you Google a business name, chances are that you will see their Facebook page in the search results.
Non-Branded Local Searches
However, when using more general, non-branded local terms such as "Dentists in Cary, North Carolina", directory sites and local business websites are generally known for ranking well, not necessarily Facebook.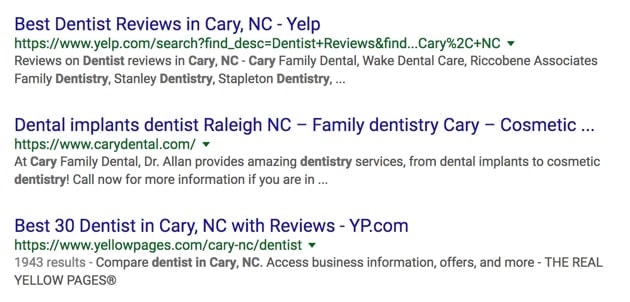 Facebook Professional Services Canonical
I did a little more digging. I found the canonical version of the city page I mentioned at the beginning of this post.
https://facebook.com/search/105487082819411/places-in/174187662626299/places/intersect/
If these pages start ranking well, you will want to make sure your business is listed on these pages, hopefully near the top.
In general, the businesses shown had a rating of 4 stars and above, but there was one that had a 3.7 star rating. I took a look at star ratings, reviews, likes and business categories but they don't seem to be ranked in a specific order. There was even one business showing that has just three reviews.
Facebook City Guides
The canonical version shows more business categories and cities you can click through to. Did you notice it links to a City Guide too?! What is this? Let's take a look…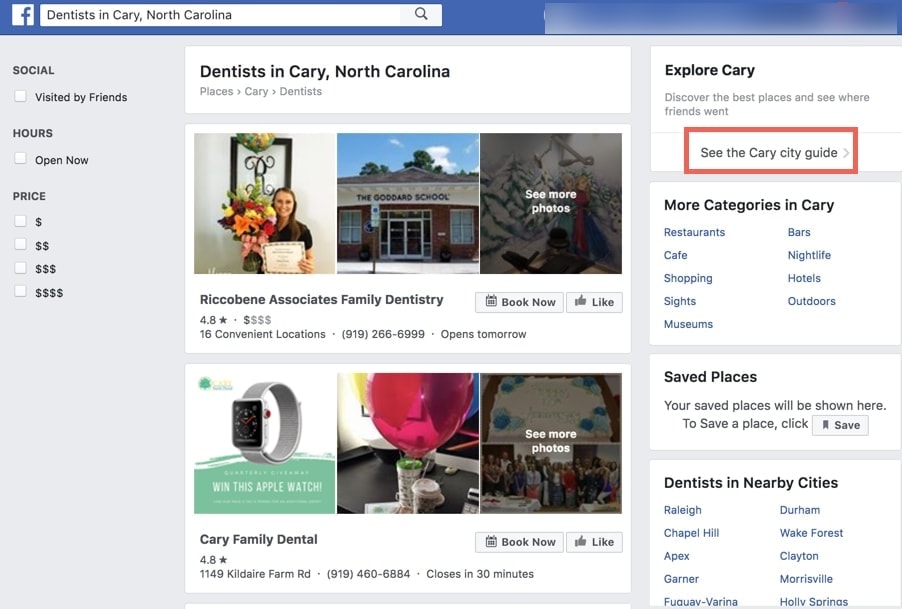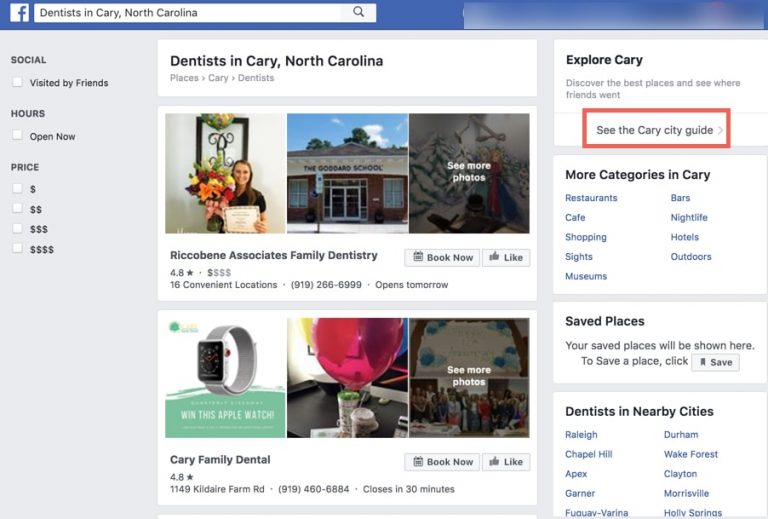 When you click on it, it takes you to a page with the title of "Things To Do In Cary, North Carolina".
https://facebook.com/places/Things-to-do-in-Cary-North-Carolina/105487082819411/
This "Thing To Do" page tells you what places you could go to in that city and display upcoming local events as well.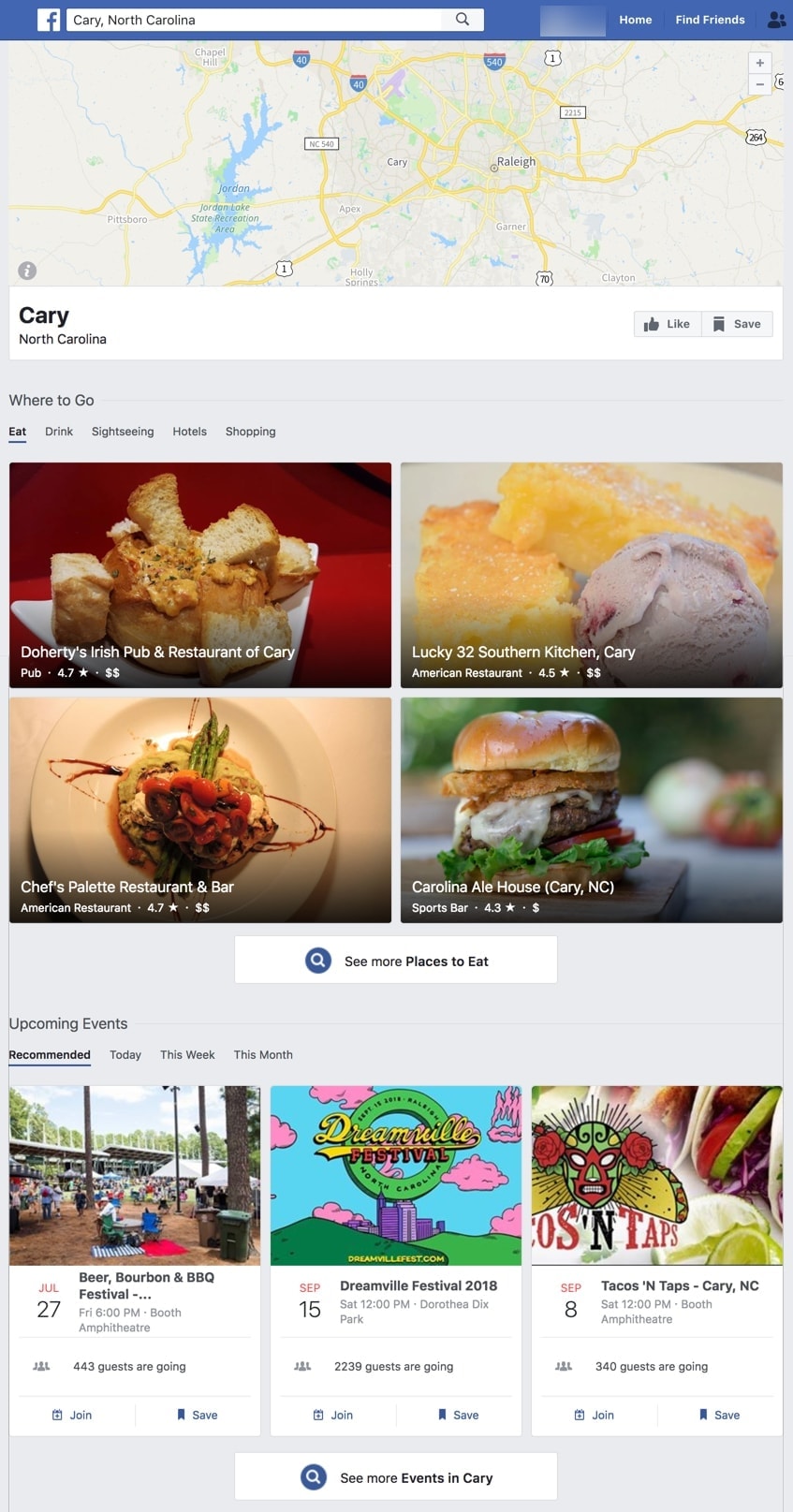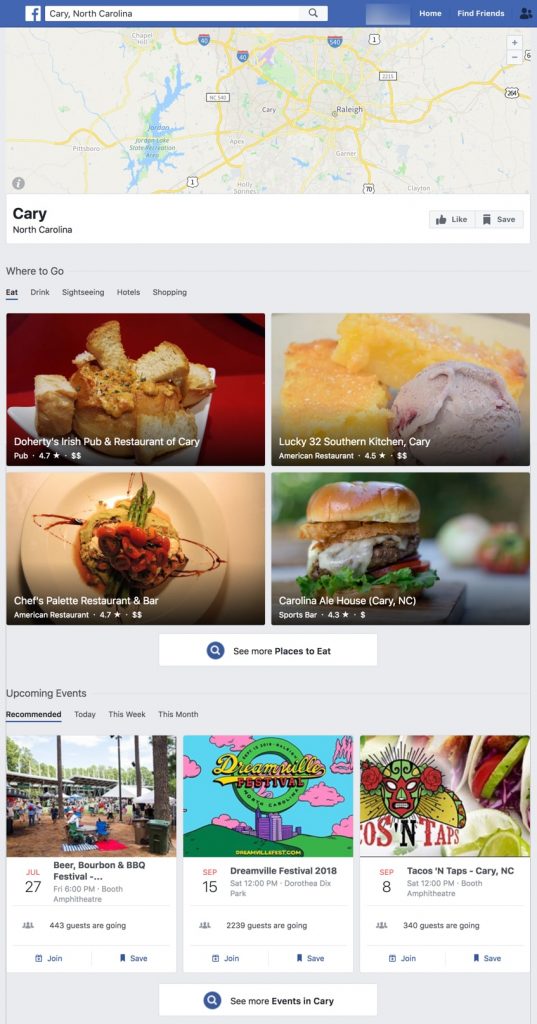 Sites like TripAdvisor have tons of "Things To Do" pages for different cities and they seem to rank ok. So maybe Facebook is also looking to compete with sites like TripAdvisor too?
Facebook did have some info to share about the City Guides. "We're testing a redesigned surface on city Pages that showcases information about your city," a Facebook spokesperson told Mashable.
"This content already exists on Facebook, and during this test we'll be centralizing it in a way that is more personalized and relevant to you. So, this new feature can help people get a better sense of their city, or a city they're visiting through their friends' eyes."
Search Volume Opportunity
If you look at the search volume for non-branded search terms, they are usually much higher than specific branded terms. If Facebook wanted to grow their traffic, targeting non-branded terms would be a great way to do it. They already have a huge database of places and events, so why not capture city specific searches for non-branded terms?
If Facebook is able to grow traffic rates on these pages, the next step would be to monetize them. As of now, I haven't seen any ads on these "city" or "things to do" pages, but at some point they may start showing adds on them like other directory sites have done.
Here's an example of search volume and what sites are outranking Facebook for these terms. It's just a snapshot but you get the idea. We will just have to see how this all turns out down the road!